FULL CT TEXT TUTORIAL (6 minutes)
ADD CT TEXT TO TEAMS
If you don't already have CT TEXT install in teams, you can easily add it to the left side tab.
1- From the left side of teams, click the "three dot" icon.
2- Either choose the app you need from the list provided or search using the search bar at the top
RECEIVING MESSAGES IN TEAMS
SMS Messages to a Team will show up in the Teams channel using the Bot. Notifications for new messages are also handled using the Bot. You can reply to the SMS or post messages about the SMS to other Team members from the Teams channel. See the Using the CT Text Bot section of the user guide for more information on replying to messages using the Bot.
You can view messages for a Team from the CT Text app. From the Messages tab, click the down arrow next to All Messages and select Team inbox.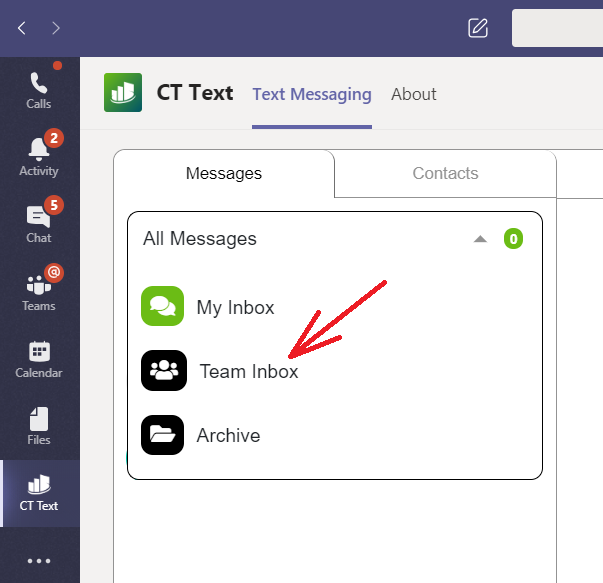 SEND MESSAGES FROM TEAMS
You can send messages from your Team inbox using the CT Text app or the Bot installed in the Team channel.
Select one or more Contacts, then right click on one of the Contacts and select Send Message (Team.)

Click on the New Message button on the Messages tab, then click on the Team Inbox button on the right side of the screen. Enter the recipient telephone numbers and message, then click the Send button or hit the Enter key.